Dr. HAROLD HENRY BEVERAGE
1893-1993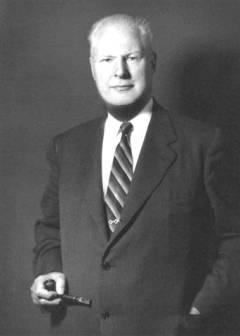 Dne 27 ledna 1993 zemřel jeden z nejstarších členů Radio Club of America, nejstarší jak délkou členství, tak i věkem, Dr. Harold H. "Bev" Beverage, v Stony Brook na Long Islandu, New York. Všem je jistě znám pojem "Anténa Beverage", ale její tvůrce zůstává zahalen rouškou anonymity, proto bych zde chtěl uvést některé podrobnosti o tomto průkopníku.
Harold H.Beverage se narodil v North Haven, Massachusets, 14 října 1893. Již v roce 1911 získal licenci na amatérský vysílač pod značkou 2BML, která byla v roce 1919 změněna na W2BML. V dubnu 1912 zaslechl na svém doma vyrobeném přijímači nouzové telegrafní signály lodi S.S. Carpathia, která spolupracovala na záchraně Titaniku. Tato událost byla jiskrou, která v něm zažehla nadšení pro jeho budoucí povolání.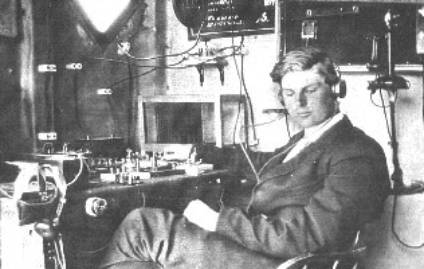 Harold H. Beverage u své amatérské stanice na univerzitě v Maine kolem roku 1915
Promoval na univerzitě v Maine v roce 1915 a v následujícím roce nastoupil do zaměstnání jako laborant v General Electric Company. V roce 1920 přešel do Radio Corporation of America (RCA) kde se zabýval vývojem přijímačů pro zaoceánskou komunikaci. O tři roky později ve svých třiceti letech obdržel cenu Morris Liebmann Memorial Prize za své příspěvky k rozvoji zaoceánského rádia.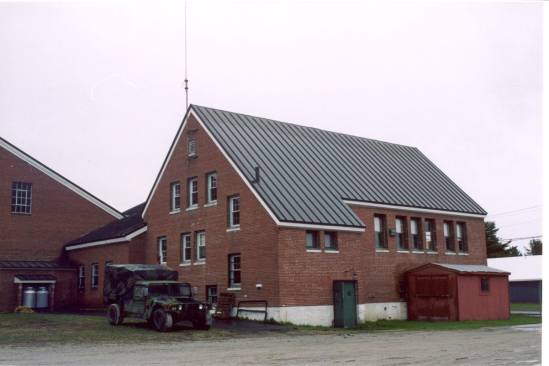 Budova RCA postavená v roce 1920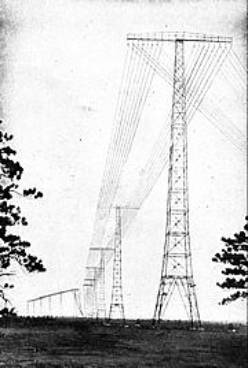 Beverageova anténa z roku 1920
V roce 1920 natáhl na stožáry "full-size" anténu pro další studium. Z těchto jeho prací vznikla "vlnová anténa", která se stala standardem pro příjem na dlouhých vlnách nejen ve Spojených státech, ale i v mnoha dalších zemích. Svůj prvý patent (následovalo jich pak ještě velmi mnoho) na tuto anténu obdržel 7. června 1921.
US Patent Number: 1381089
Year: 1920
Inventor: Harold H. Beverage
Original Document: US Patent Number 1381089
---
Excerpt: In carrying my invention into effect I make use of a horizontal preferably aperiodic antenna extending in a direction parallel to the direction of transmission of the signals to be received. This antenna is constructed with distributed capacity inductance and resistance of such values that the currents produced therein by the desired signals increase progressively from the end of the antenna nearest the transmitting station becoming in the preferred case, the maximum at the end farthest from the transmitting station.
---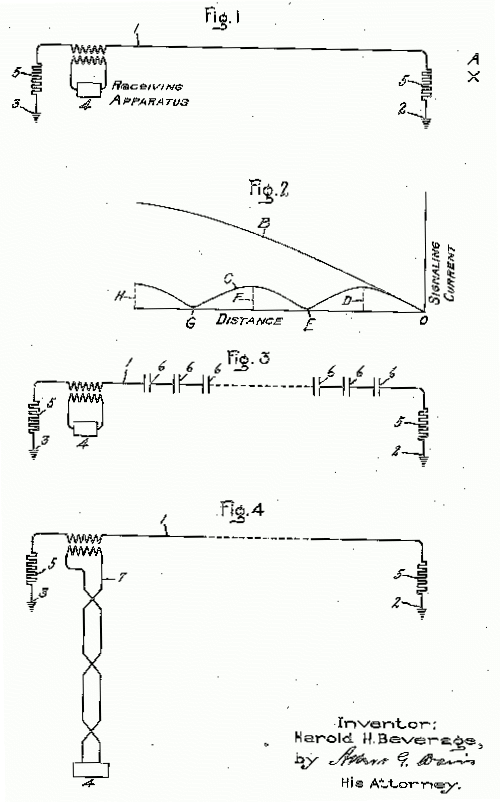 Společnost RCA jej v roce 1929 jmenovala šéfinženýrem výzkumu komunikací, na této funkci zůstal až do roku 1940, kdy byl povýšen na viceprezidenta pro oblast výzkumu a vývoje v RCA Communications Inc, pobočce RCA. Z této pozice odešel do výslužby (u nás by se řeklo do důchodu) v roce 1958, ale stále pokračoval v komunikacích jako externí konzultant.
V roce 1938 obdržel od Radio Institute of America spolu s Armstrongem medaile za práce na vývoji antenních systémů. V odůvodnění bylo uvedeno - cituji – "the precursor of wave antennas of all types."
V roce 1945 byl vyznamenán IRE Medal of Honor  -  medailí cti, za zvýšení efektivity rádiových spojení a jeho přínos pro Institute of Radio Engineers. Další z mnoha medailí byla například Lamme Gold Medal v roce 1957.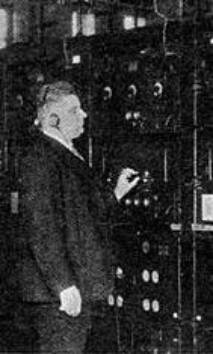 Ve druhé světové válce pracoval také na vývoji zařízení pro armádu, tyto jeho práce však podléhaly vojenskému utajení. Jako dočasný konzultant pro ministerstvo války v oblasti rádiového spojení obdržel vysoké ocenění od generálmajora H. C. Inglese, hlavního velitele armády pro spojení.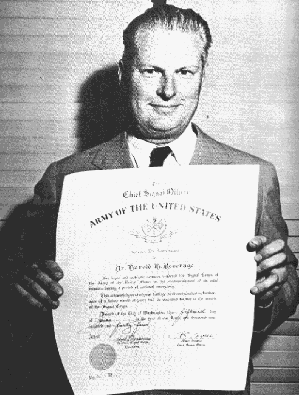 Harold a jeho diplom od Spojovacích sborů US armády
Zpráva ARRL k jeho úmrtí
ZCZC AX11
QST DE W1AW
SPECIAL BULLETIN 2 ARLX002
FROM ARRL HEADQUARTERS NEWINGTON CT
FEBRUARY 2, 1993
RELAYED BY KB8NW/OBS & BARF-80 BBS
TO ALL RADIO AMATEURS
SB SPCL ARL ARLX002
ARLX002 H H BEVERAGE, SK
H.H. BEVERAGE, EX-W2BML, SK
HAROLD H. BEVERAGE, EX-W2BML, DIED JANUARY 27 IN STONY BROOK, NEW
YORK. HE WAS 99 YEARS OLD. ALTHOUGH NOT AN ACTIVE HAM SINCE THE
1920S, HIS NAME IS IMMORTALIZED AS THE INVENTOR OF THE BEVERAGE
RECEIVING ANTENNA (OR, AS HE ORIGINALLY CALLED IT, THE ''WAVE
ANTENNA''). IT WAS DEVELOPED IN 1917 TO ENHANCE COMMUNICATIONS
BETWEEN THE US AND EUROPE DURING THE FIRST WORLD WAR, AND WAS
DESCRIBED IN QST IN NOVEMBER, 1922.
BEVERAGE SAID IN 1980 THAT HE CONSIDERED HIS TWO GREATEST INVENTIONS (HE RECEIVED MORE THAN 40 PATENTS) THE WAVE ANTENNA AND DIVERSITY RECEPTION. A BIOGRAPHY OF BEVERAGE, GENIUS AT RIVERHEAD, WAS WRITTEN BY ALBERTA I. WALLEN AND PUBLISHED BY THE NORTH HAVEN (MAINE) HISTORICAL SOCIETY IN 1988.
BEVERAGE WAS RECOGNIZED WITH AN OBITUARY IN THE FEBRUARY 2 NEW YORK TIMES. THE AMERICAN INSTITUTE OF ELECTRICAL ENGINEERS AWARDED BEVERAGE ITS LAMME GOLD MEDAL IN 1957, THE TIMES SAID, AND CITED HIM ''FOR HIS PIONEERING AND OUTSTANDING ACHIEVEMENTS IN THE CONCEPTION AND APPLICATION OF PRINCIPLES BASIC TO PROGRESS IN NATIONAL AND WORLDWIDE RADIO COMMUNICATIONS.''
 --
Gary W. Sanders g@n8emr.cmhnet.org, 72277,1325
N8EMR @ N8JYV (ip addr) 44.70.0.1 [Ohio AMPR address coordinator]
HAM BBS 614-895-2553 (1200/2400/V.32/PEP) Voice: 614-895-2552 (eves/weekends)
Beverageovy další patenty:
Zdroj informací - nepřehledné množství článků na internetu, po dotazu na Google se jich objeví 388 000 000